Event for 1/12/07 - 1/18/07
01-09-2007, 06:38 PM
Event for 1/12/07 - 1/18/07
The computer models are up to their old tricks of trying to slow down the arctic air headed this way. I don't buy what they are saying. I feel the cold air will come into the region on Friday with falling temperatures and rain. Eventually the rain will become freezing rain and that will last through the day Saturday. Saturday night into Sunday morning we'll see the freezing rain change over to some light snow, but i dont expect much in the way of
snow accums in the region, the main problem will be ICE and possibly lots
of it! At this time I have the front clearing oklahoma by 1-2 pm central time
friday afternoon, moving close to the dallas-fortworth metroplex area by
5-6 pm central time friday eve... at this rate temps will be at, near or below
the 32 degree mark by midnight or a bit there after north of dfw area into
oklahoma, which i expect ongoing precip (which could be frz rain) by that
point.. saying all this here are my main points

(1) fast moving front will surge into north tx by fri eve, bringing
frz rain,sleet by early hrs of saturday..

(2) expect precip to last until atleast sunday afternoon, clearing
western sections by afternoon and the eastern by dark...

(3) all together... i expect inches of ice possible across a large region
its always wise to be ahead of the storm, so yeah i could be wrong
BUT the models do this alot slowing down fronts at the last minute and
it doesnt always hold true, so i just dont buy it... there for iam going
for higher ice totals across most of ok, srn ks, nc tx...

I Will have another update @ 10 for sure tonight
as I look over more data and get a graphics package
together.


Todd Rasmuson
FAST Chief Forecaster
01-09-2007, 11:26 PM
Event for 1/12/07 - 1/18/07
[ATTACH]5681[/ATTACH]


Looking at the models again I feel they are under cutting the
arrival of the front as they have done in times past of trying
to push it back or stall it. I strongly feel this is not gonna happen
and iam not buying most of the models, therefore i still feel its
gonna surge into the southern plains making very good progress
late thursday into friday and clearing southern ks by late thu night
into early fri, then pushing out of oklahoma by fri afternoon and near
dallas-fortworth by late fri evening as you can see on the graphic

so attm which likely there will be some changes staying put with
past forecast's and will have another update in the morning..

*PLEASE NOTE* The arrival of the front is basically everything
in if it doesnt clear say se ok into n tx until late sat chances
of winter precip will be much less (if the models are correct) which
again i think they are holding the front to far to the north... only
time will tell

I will have updates through out the day tomorrow and first update
should be around 9-9:30 AM Central time..


Todd Rasmuson
FAST Chief Forecaster
01-10-2007, 12:50 AM
Event for 1/12/07 - 1/18/07
[ATTACH]5683[/ATTACH]
DECIDED TO GO AHEAD AND START THE WSO FOR THE TALKED
ABOUT EVENT...

LOW RISK FOR MUCH OF NORTHERN AND CENTRAL, ERN TX, PORTIONS
OF EXTREEM SOUTHERN, SERN OK AND WRN AR...

A MOD RISK FOR PORTIONS OF ERN, NERN TX PANHANDLE, CENTRAL,
NORTHERN, NERN OK AND EXTREEM SW MO AND NW AR...

THE LOW RISK MEANS THERE IS A 20% CHANCE OR LESS CHANCE
OF 'MAJOR' ICE AND OR SNOW ACCUMS OF 2-3" OR GREATER

MOD RISK MEANS 30-40% CHANCE OF 2-3" OR GREATER ICE
AND OR SNOW ACCUMS...

I WILL MORE THEN LIKELY CHANGE THIS SEVERAL TIMES BEFORE
THE WKEND AS MODELS AND THINKING CHANGES NON THE LESS
IT APPEARS AT THIS POINT A FAIRLY MAJOR ICE STORM IS POSS
ACROSS PORTIONS OF CENTRAL,NORTHERN, NERN OK... POSSIBLY
AS FAR SOUTH AS CENTRAL TX.. IN PREV DISCUSSIONS I HAVE SAID
I FEEL THE FRONT WILL MAKE ALOT OF PROGRESS BUT STILL QUESTIONS
REMAIN THAT BEING WHY IAM KEEPING POPS LOW FOR TX REGION
FOR TIME BEING...

FURTHER UPDATE ON THIS IN THE MORNING AND WILL UPDATE
THIS GRAPHIC BY 1130 AM CENTRAL 01/10/07

Todd Rasmuson
FAST Chief Forecaster
01-10-2007, 06:11 AM
ROLLTIDE
Administrator


Posts: 71,640
Joined: Apr 2004
Reputation: 10
Event for 1/12/07 - 1/18/07
AREA FORECAST DISCUSSION
NATIONAL WEATHER SERVICE NORMAN OK
429 AM CST WED JAN 10 2007
.DISCUSSION...FORECAST FOCUSES ENTIRELY ON THE UPPER LEVEL SYSTEM
AND LOW LEVEL ARCTIC AIR MASS THAT WILL BOTH DROP FROM ALASKA INTO
THE WESTERN AND CENTRAL STATES. THE UPPER LOW WAS ALREADY
ENCROACHING ON THE INTERNATIONAL BORDER...WITH STRONG
JET
FLOW OVER
THE MOUNTAINS OF MONTANA CREATING A DEEP 992
MB
SURFACE LOW. WITH
THE LEE
TROUGH
EXTENDING DOWN INTO WESTERN OKLAHOMA TODAY...AND HIGH
PRESSURE SITUATED OVER THE LOWER MISSISSIPPI VALLEY...A WIND
ADVISORY WILL BE ISSUED FOR WESTERN AND NORTHERN OKLAHOMA. THE
NAM
GRIDDED DATA AND
GFS
MOS
HAVE BEEN CONSISTENT IN SHOWING SUSTAINED
WINDS NEAR 30 KNOTS IN THE TYPICALLY WINDY CORRIDORS THIS
AFTERNOON...AND THE
RUC
IS SUPPORTING THIS TREND. IT WILL BE A
WINDY BUT MILD DAY EVEN OUTSIDE OF THE ADVISORY AREA.
OTHERWISE...MOST EFFORT THIS MORNING WAS PUT INTO THE PRECIPITATION
FORECAST FOR THE WEEKEND. PREVIOUS THINKING CONTINUES TO BE ON
TRACK...AS THE LONG RANGE
MODELS
STILL BRING THE
FRONT
THROUGH ON
FRIDAY. THEY HAVE ALSO TRENDED TOWARD MAINTAINING A
CLOSED LOW
IN
THE BASE OF THE UPPER
TROUGH
AS IT TURNS EAST AROUND THE FOUR
CORNERS REGION. THIS TREND HAS INCREASED CONFIDENCE IN THERE BEING
DEEP BROAD SCALE LIFT FROM SATURDAY INTO SUNDAY...AND
POPS
WERE
RAISED ACCORDINGLY.
POPS
WERE ALSO RAISED SOMEWHAT ON THURSDAY
NIGHT...WHERE
MODELS
ARE BETTER RESOLVING A SHARP MID LEVEL
JET
EJECTING FROM BAJA. THERE WILL BE A MID LEVEL DRY LAYER TO
OVERCOME...BUT
GFS
AND
NAM
CROSS SECTIONS SHOW SUFFICIENT
LIFT...ESPECIALLY NEAR AND SOUTH OF I-44. ALL OF THIS PRECIP WILL BE
LIQUID...AS THE
FRONT
IS NOT DUE TO ARRIVE UNTIL EARLY FRIDAY
MORNING. FROM FRIDAY INTO FRIDAY NIGHT THE AREA MAY BE UNDER
SHORTWAVE
RIDGING
ALOFT...SO THE POTENTIAL FOR HEAVY PRECIP DOES NOT
APPEAR LIKELY. BUT WITH THE
FRONT
SWEEPING THROUGH WE MAY SEE
WIDESPREAD SHALLOW RAIN SHOWERS OR A FEW WEAK THUNDERSTORMS...MAINLY
IN SOUTHERN ZONES. FARTHER NORTH...WEAK WARM
ADVECTION
AND UPSLOPE
FLOW IS LIKELY TO GENERATE DRIZZLE AND FREEZING DRIZZLE.
CURRENT THINKING IS THAT THE FRIDAY ACTIVITY MAY LEAD TO ISSUANCE OF
A WINTER WEATHER ADVISORY SOMEWHERE NORTH AND WEST FROM I-44. THE
PERIOD OF GREATER CONCERN FOR SIGNIFICANT ICING IS SATURDAY INTO
EARLY SUNDAY. THE MAIN QUESTION IS THE POSITION OF THE FRONTAL ZONE
AND THE FREEZING TEMPERATURES. EVERY LONG RANGE MODEL CONTINUES TO
LOOK UNREALISTIC IN ITS DEPICTION OF AN EAST TO WEST ORIENTED
FRONT
THAT LIFTS NORTH ON SATURDAY. BASED ON EXPERIENCE WITH SHALLOW
FRIGID AIR MASSES...EXPECT THE
FRONT
TO GO FARTHER SOUTH ON THE HIGH
PLAINS THROUGH TEXAS AND EASTERN NEW MEXICO...BUT THE EASTERN
PORTION OF THE
FRONT
MAY VERY WELL STALL IN SOUTHEAST
OKLAHOMA...MAKING FOR SOME EXTREME TEMPERATURE DIFFERENCES ACROSS
THE STATE ON SATURDAY. AS THE WARM
ADVECTION
CONTINUES
ALOFT...WIDESPREAD DRIZZLE/LIGHT RAIN APPEAR LIKELY. TOO EARLY TO
TELL WHERE THE HEAVIEST ICING MAY OCCUR...BUT THIS MAY WARRANT A
WINTER STORM
WATCH
AS WE APPROACH THE EVENT ON THURSDAY OR FRIDAY.
&&
---
Twitter updates we will follow you back
http://twitter.com/Hardcoreweather
Now on Facebook We will like you back

http://www.facebook.com/pages/Hardcorewe...466?v=wall
01-10-2007, 10:03 AM
NDG
Cat 4


Posts: 700
Joined: Feb 2006
Reputation: 0
Event for 1/12/07 - 1/18/07
The Euro is finally latching on the very cold air coming down, now the question is where there be any moisture in place across the deep south as the trough lags behind moving eastward from the SW US.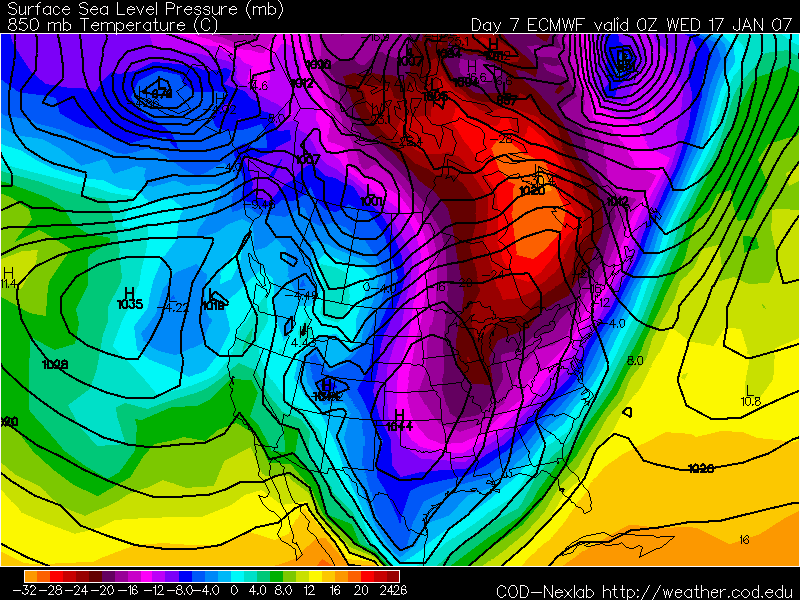 01-10-2007, 10:43 AM
Event for 1/12/07 - 1/18/07
new thoughts from the fast forecast center this
morning are that our first graphic put out the other
day for highs on sunday might not have been to low
after all... teens for HIGHS across much of central,
southern and northern ok for sun-tues.. and highs
in the lower to mid 20s down in northern and central
tx.. this is gonna be a VERY COLD airmass... i still
feel its gonna 'surge' south bringing all the precip
from early sat morning until it ends late sun into mon
as frz rain.. which if it does occur it will as you know
bring a very messy situation to the entire region
and people in this area should be prepared for
hours to days and maybe week without power
as i strongly feel at this point this is gonna be
a widespread ice storm from nrn ok, sc ks to nc
tx and points e from there... into ok i-44 nw
looks like it could go under a 'high risk' for our
wso next advisory and parts of nc tx under a mod
risk upgrade from the last advisory but that is yet
to be decided... also looks like there is gonna be
plenty of moisture to work with the entire peroid
from fri-late sun.. i would put pops on average
in the talked about region between 60-100%..
which again i believe is gonna be mostly all
in the form of frz rain..

More later and of course the wso update
at around 1130 am central


Todd Rasmuson
FAST Chief Forecaster
01-10-2007, 12:18 PM
Event for 1/12/07 - 1/18/07
[ATTACH]5684[/ATTACH]


WSO
FAST WEATHER

1104 AM CENTRAL 1.10.07

***WINTER STORM OUTLOOK** FOR FRIDAY THROUGH SUNDAY...


*HIGH RISK* FOR THE EXTREEM NE TX PANHANDLE,NORTHERN AND
CENTRAL OK...

*MOD RISK* FOR EXTREEM ERN TX PANHANDLE, WRN,SWRN, CENTRAL,
SC AND NE OK.. AND PARTS OF NORTH, NC TX..

*LOW RISK* FOR WESTERN TX PANHANDLE, OKLAHOMA PANHANDLE, ERN
NM, CENTRAL, EXTREEM ERN TX, EASTERN OK, SOUTHERN, SW MO
AND WESTERN, CENTRAL ARK AND EXTREEM NW LA...


THOUGHTS AT THIS HR ARE THAT THIS IS GOING TO BE A 'MAJOR'
ICE STORM FOR THE CENTRAL,SOUTHERN PLAINS REGION ESP
NC OK TO NORTHERN TX WITH INCHES OF ICE CAUSING
POWER OUTAGES FOR POSSIBLY DAYS TO A WEEK AND CLOSING
MAJOR ROADWAYS.. WE DECIDED TO UPGRADE THE TWO AREAS
NC AND CENTRAL OK TO HIGH RISK AND NC TX TO MOD RISK
THE SOUTH END MAY NEED TO BE UPGRADED TO HIGH RISK AS
WELL IN FURTHER OUTLOOKS.. SOME MODELS NOW SHOWING
SYS MAYBE SLOWING DOWN TOWARDS SUN WHICH WOULD
KEEP CHANCE OF PRECIP (FRZ RAIN) IN THIS SAME REGION
POSS UNTIL MON SOMETIME.. MAKING IT THAT MUCH WORSE...

WE ADVISE PEOPLE WITHIN THE MOD, HIGH RISK AREAS
TO STAY TUNED TO US HERE OR ON A LOCAL TV OR RADIO
OR A NOAA WX RADIO FOR THE VERY LATEST ON THIS POSSIBLE
MAJOR ICE STORM HEADING FOR THE SOUTH CENTRAL PLAINS
THIS WKEND AND BE PREPARED, STOCK UP ON HOUSE HOLD
ITEMS NEEDED FOR BEING STUCK INSIDE FOR DAYS...

ANOTHER WSO WILL BE ISSUED TONIGHT AT AROUND 10 PM
CENTRAL




Todd Rasmuson
FAST Chief Forecaster
01-10-2007, 01:46 PM
Event for 1/12/07 - 1/18/07
[ATTACH]5685[/ATTACH]
we are in agreement that the front will be nearly out of oklahoma
by 8 pm fri with widespread frz rain behind it and well into central
tx by 11 am sat with very cold air and frz rain starting near dfw
area by that time... things could change but attm its looking like
a 24+ hr event possible of nearly all the precip being frz rain


more updates around 5 pm central and followed by a full update
at 10 tonight with the new wso at that time


Todd Rasmuson
FAST Chief Forecaster
01-10-2007, 04:40 PM
Race2Beach
Cat 5


Posts: 1,468
Joined: Feb 2006
Reputation: 0
Event for 1/12/07 - 1/18/07
---
[SIGPIC][/SIGPIC]




We cannot direct the wind, but we can adjust our sails





http://www.myspace.com/race2beach
01-10-2007, 04:42 PM
Race2Beach
Cat 5


Posts: 1,468
Joined: Feb 2006
Reputation: 0
Event for 1/12/07 - 1/18/07
---
[SIGPIC][/SIGPIC]




We cannot direct the wind, but we can adjust our sails





http://www.myspace.com/race2beach
User(s) browsing this thread: 1 Guest(s)