09-10-2017, 05:20 PM
ROLLTIDE
Administrator


Posts: 71,036
Joined: Apr 2004
Reputation: 10
RE: HURRICANE IRMA
They are showing Ft Pulaski getting 1.5 feet more water than Mathew brought.
Irma prediction - 13.95'
Mathew - 12.45' (Station record)
---
Twitter updates we will follow you back
http://twitter.com/Hardcoreweather
Now on Facebook We will like you back

http://www.facebook.com/pages/Hardcorewe...466?v=wall
09-10-2017, 05:25 PM
ROLLTIDE
Administrator


Posts: 71,036
Joined: Apr 2004
Reputation: 10
RE: HURRICANE IRMA
Going to check email one last time and go get some dinner
---
Twitter updates we will follow you back
http://twitter.com/Hardcoreweather
Now on Facebook We will like you back

http://www.facebook.com/pages/Hardcorewe...466?v=wall
09-10-2017, 06:03 PM
ROLLTIDE
Administrator


Posts: 71,036
Joined: Apr 2004
Reputation: 10
RE: HURRICANE IRMA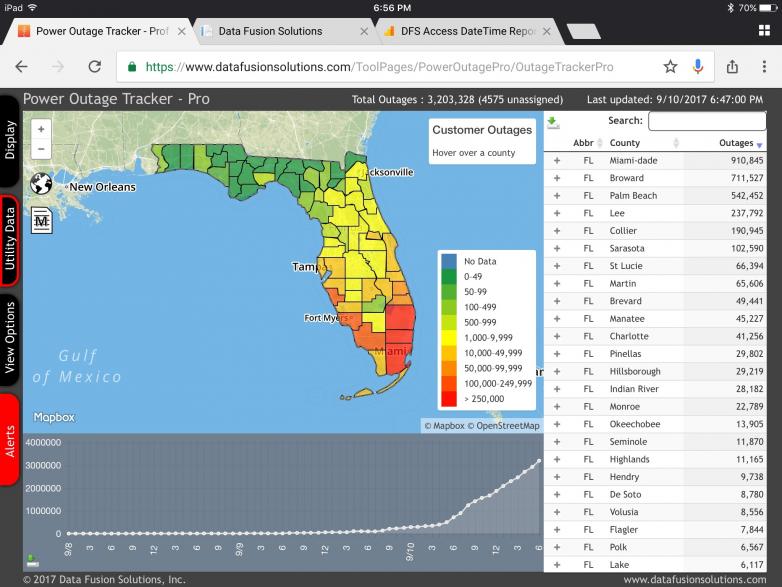 ---
Twitter updates we will follow you back
http://twitter.com/Hardcoreweather
Now on Facebook We will like you back

http://www.facebook.com/pages/Hardcorewe...466?v=wall
09-10-2017, 06:04 PM
ROLLTIDE
Administrator


Posts: 71,036
Joined: Apr 2004
Reputation: 10
RE: HURRICANE IRMA
---
Twitter updates we will follow you back
http://twitter.com/Hardcoreweather
Now on Facebook We will like you back

http://www.facebook.com/pages/Hardcorewe...466?v=wall
09-10-2017, 06:16 PM
brentwpb
Cat 3


Posts: 164
Joined: Jul 2010
Reputation: 0
RE: HURRICANE IRMA
Power out in lake worth for hour now. Winds still pounding the area

Sent from my SAMSUNG-SM-G935A using Tapatalk
09-10-2017, 06:21 PM
ROLLTIDE
Administrator


Posts: 71,036
Joined: Apr 2004
Reputation: 10
RE: HURRICANE IRMA
Thanks everybody for all the support the last 13 years I couldn't have done it without you
---
Twitter updates we will follow you back
http://twitter.com/Hardcoreweather
Now on Facebook We will like you back

http://www.facebook.com/pages/Hardcorewe...466?v=wall
09-10-2017, 06:23 PM
Her-icane
Cat 5


Posts: 1,541
Joined: Jul 2008
Reputation: 2
RE: HURRICANE IRMA
---
09-10-2017, 06:34 PM
(This post was last modified: 09-10-2017 06:35 PM by dafif.)
dafif
Cat 2


Posts: 12
Joined: Sep 2017
Reputation: 0
RE: HURRICANE IRMA
Power flickering about 3 times but still on in ORL. Winds definitely picking up. Couple of gusts I guess up to 50. Tornadoes huge concern here. Have gone to safe spot twice.

---
Thanks for this site.
09-10-2017, 07:06 PM
Frog
Cat 2


Posts: 21
Joined: Jul 2006
Reputation: 0
RE: HURRICANE IRMA
Still have power here in Odessa, about 20 miles North of Tampa. As a former Guam resident and Navy SEAL Vet, this is what we call a Banana Typhoon, i.e. no big deal for us. 15K Generator and 30 gal of gas on standby in case it gets bad.
09-10-2017, 07:09 PM
Nolaken
Cat 3


Posts: 119
Joined: Aug 2006
Reputation: 2
RE: HURRICANE IRMA
SUMMARY OF 800 PM EDT...0000 UTC...INFORMATION
----------------------------------------------
LOCATION...26.7N 81.7W
ABOUT 15 MI...25 KM ENE OF FT. MYERS FLORIDA
ABOUT 30 MI...50 KM SE OF PORT CHARLOTTE FLORIDA
MAXIMUM SUSTAINED WINDS...105 MPH...165 KM/H
PRESENT MOVEMENT...N OR 355 DEGREES AT 14 MPH...22 KM/H
MINIMUM CENTRAL PRESSURE...942 MB...27.82 INCHES


DISCUSSION AND 48-HOUR OUTLOOK
------------------------------
At 800 PM EDT (0000 UTC), the center of Hurricane Irma was located
by NOAA Doppler radar near latitude 26.7 North, longitude 81.7 West.
Irma is moving toward the north near 14 mph (22 km/h), and a
north-northwestward motion with an increase in forward speed is
expected by tonight, with that motion continuing through Monday. On
the forecast track, the eye of Irma should move near or over the
west coast of the Florida Peninsula through Monday morning. Irma
should then move inland over northern Florida and southwestern
Georgia Monday afternoon.

Maximum sustained winds have decreased to near 105 mph (165 km/h)
with higher gusts. Although weakening is forecast, Irma is expected
to remain a hurricane at least through Monday morning.

Hurricane-force winds extend outward up to 80 miles (130 km) from
the center, and tropical-storm-force winds extend outward up to 220
miles (350 km).

The estimated minimum central pressure is 942 mb (27.82 inches).
User(s) browsing this thread: 1 Guest(s)