APRIL 13, 2013-LATE NIGHT SVR T-STORM HAIL CORE PUNCH-NORTHEAST ST. MARTINVILLE, LA
04-14-2013, 01:35 AM
(This post was last modified: 04-14-2013 01:38 AM by Joe-Nathan.)
Joe-Nathan
Expert Kool-Aid Drinker


Posts: 8,394
Joined: Aug 2008
Reputation: 5
APRIL 13, 2013-LATE NIGHT SVR T-STORM HAIL CORE PUNCH-NORTHEAST ST. MARTINVILLE, LA
So we had these storm start popping up in the North GOM late Saturday night (04/13/13). One went Severe T-Storm Warned, moving about 55mph and was headed towards St. Martinville. So I decided to give it a shot. Set up about 8mi east of town but quickly determined I needed to head west towards town. Got into some rain and wind then hit the hail core. This hail shaft was about 1 mile wide. Very unusual for my area. Hail was in the nickel to penny size range. It only lasted a few minutes, but came down hard enough to cover the ground.
Sorry for the crappy video, but I don't have any mounts and the roads were not the best:
[video=youtube;T7ck9u9EfZ8]http://www.youtube.com/watch?v=T7ck9u9EfZ8[/video]
Here is my Spotter Net report:
Quote:13500;;2013-04-14 05:04:00;;Hail;;0.88" (Nickel);;30.157900;;-91.786200;;N;;3 miles NE of ST. MARTINVILLE, LA;;Nickel to penny sized hail at my location for approximately 5 minutes. Also very heavy rain and 35+ MPH winds.
---
Trained Weather Spotter
CoCoRaHS Volunteer
https://www.instagram.com/bostickjm
https://twitter.com/BostickJM
http://www.livechasers.com/JonathanBostick
04-15-2013, 11:49 AM
(This post was last modified: 04-15-2013 11:55 AM by Joe-Nathan.)
Joe-Nathan
Expert Kool-Aid Drinker


Posts: 8,394
Joined: Aug 2008
Reputation: 5
APRIL 13, 2013-LATE NIGHT SVR T-STORM HAIL CORE PUNCH-NORTHEAST ST. MARTINVILLE, LA
Forgot to add my RadarScope screen shot: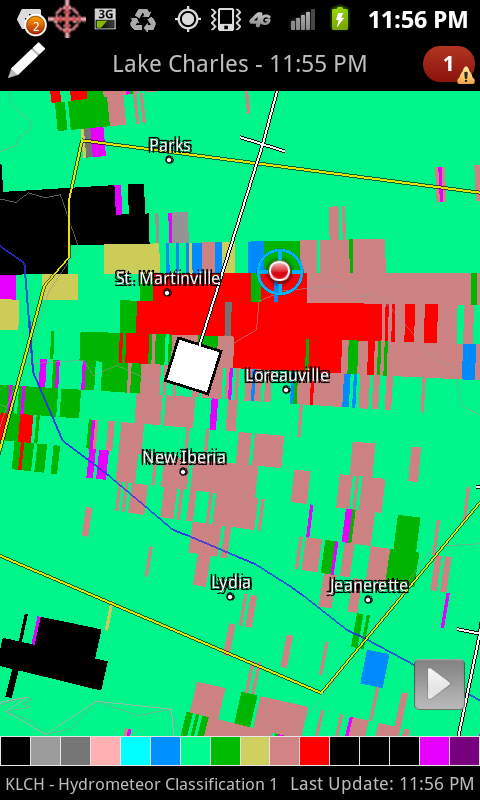 IEM report screen shot: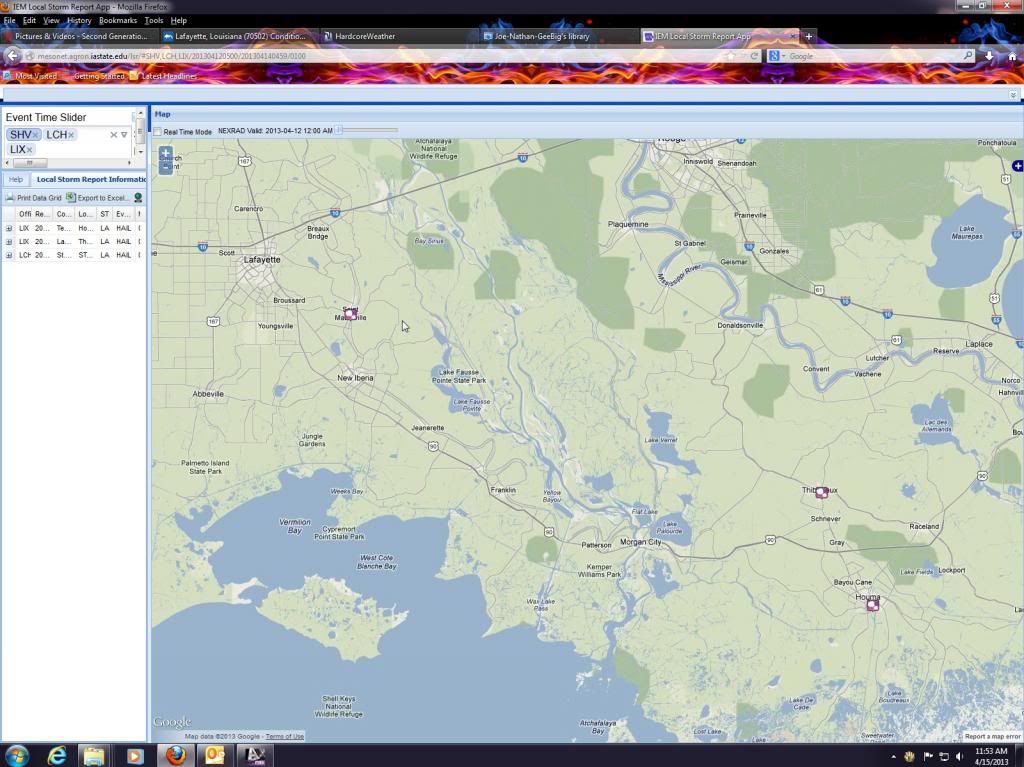 ---
Trained Weather Spotter
CoCoRaHS Volunteer
https://www.instagram.com/bostickjm
https://twitter.com/BostickJM
http://www.livechasers.com/JonathanBostick
User(s) browsing this thread: 1 Guest(s)