Authorities seize $45 million of narcotics in California drug bust
06-26-2010, 08:48 PM
HarvestMoon
Cat 5


Posts: 6,988
Joined: Sep 2007
Reputation: 1
Authorities seize $45 million of narcotics in California drug bust
[SIZE="5"]Authorities seize $45 million of narcotics in California drug bust[/SIZE]
[SIZE="1"][COLOR="Gray"]By the CNN Wire Staff
June 26, 2010 4:05 a.m. EDT[/COLOR][/SIZE]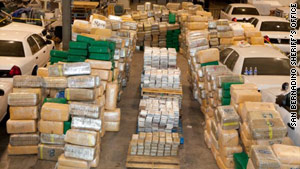 [SIZE="1"][COLOR="DimGray"]An "overwhelming odor" led authorities to 20 tons of
narcotics in the back of a tractor-trailer in California.[/COLOR][/SIZE]
(CNN)
-- Authorities in southern California said the strong smell of marijuana helped them discover $45 million worth of drugs in the back of a tractor-trailer they had pulled over for a traffic violation.
Deputies stopped the truck Wednesday morning, then opened the trailer after finding problems with the paperwork for the load, the San Bernardino County Sheriff's Office said Friday.
http://www.cnn.com/2010/CRIME/06/26/cali...index.html
---
Only people with oversized egos believe that mankind has caused global warming.

Scientific Consensus is an Oxymoron
User(s) browsing this thread: 1 Guest(s)