Spring Hill, Florida Area
04-21-2012, 10:56 PM
Spring Hill, Florida Area
April 21, 2012 Observations:
Daytime High was 83° F
Overnight Low was 67° F
Mean Temperature was 75° F
Average Daytime High is 83° F
Average Overnight Low is 56° F
Average Mean for date 69.5° F
Record High is 91° in 1992
Record Low is 44° in 1993
Overcast but some sun at times.
Thunderstorm at 3:15 p.m./Shower with thunder at 11:35 p.m.
Winds southeast at 10-15 mph
Dewpoints in the mid 60's
Rain Amount = 1.40"
Tornado Watch Overnight
Forecast for Sunday the 22nd:
Sunday: A 50 percent chance of showers and thunderstorms before 2pm. Partly sunny, with a high near 80. West northwest wind 9 to 12 mph increasing to between 21 and 24 mph. Winds could gust as high as 33 mph. New rainfall amounts of less than a tenth of an inch, except higher amounts possible in thunderstorms.
Tonight: Mostly clear, with a low around 53. Northwest wind between 14 and 20 mph, with gusts as high as 28 mph.
Radar at 3:27 p.m.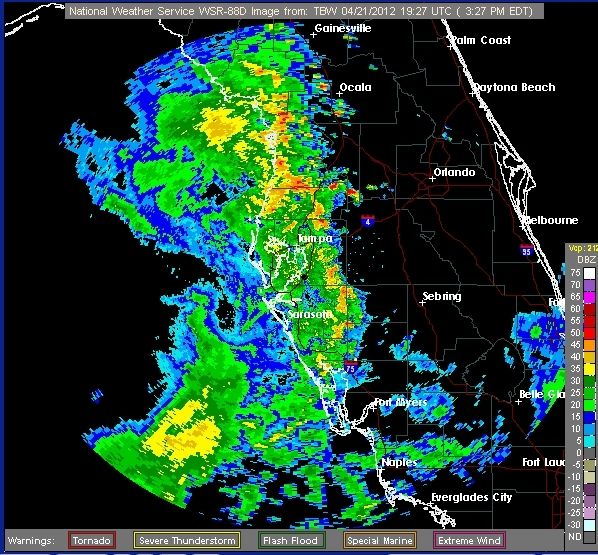 Radar at 11:22 p.m.
User(s) browsing this thread: 9 Guest(s)