Spring Hill, Florida Area
08-20-2011, 09:23 PM
Spring Hill, Florida Area
August 20, 2011 Observations:
Daytime High was 92° F
Overnight Low was 75° F
Mean Temperature was 83.5° F
Average Daytime High is 91° F
Average Overnight Low is 71° F
Average Mean for date 81° F
Record High is 96° in 1987/2007
Record Low is 66° in 1988
Pt. Sunny.
Thunderstorm at 6:15 p.m.
Winds southeast then west then southeast
Dewpoints in the mid 70's.
Rain Amount = 1.80"
(Total for month is 8.79")
Gulf Water Temp is 89°
Forecast for Sunday the 21st:
Sunday: Scattered showers and thunderstorms after noon. Mostly sunny, with a high near 93. Heat index values as high as 101. East wind 5 to 7 mph becoming west southwest. Chance of precipitation is 50%.
Sunday Night: Isolated showers and thunderstorms before midnight. Mostly cloudy, with a low around 75. Northwest wind between 5 and 8 mph becoming calm. Chance of precipitation is 20%.
Just before it hit on Radar at 6:05 p.m.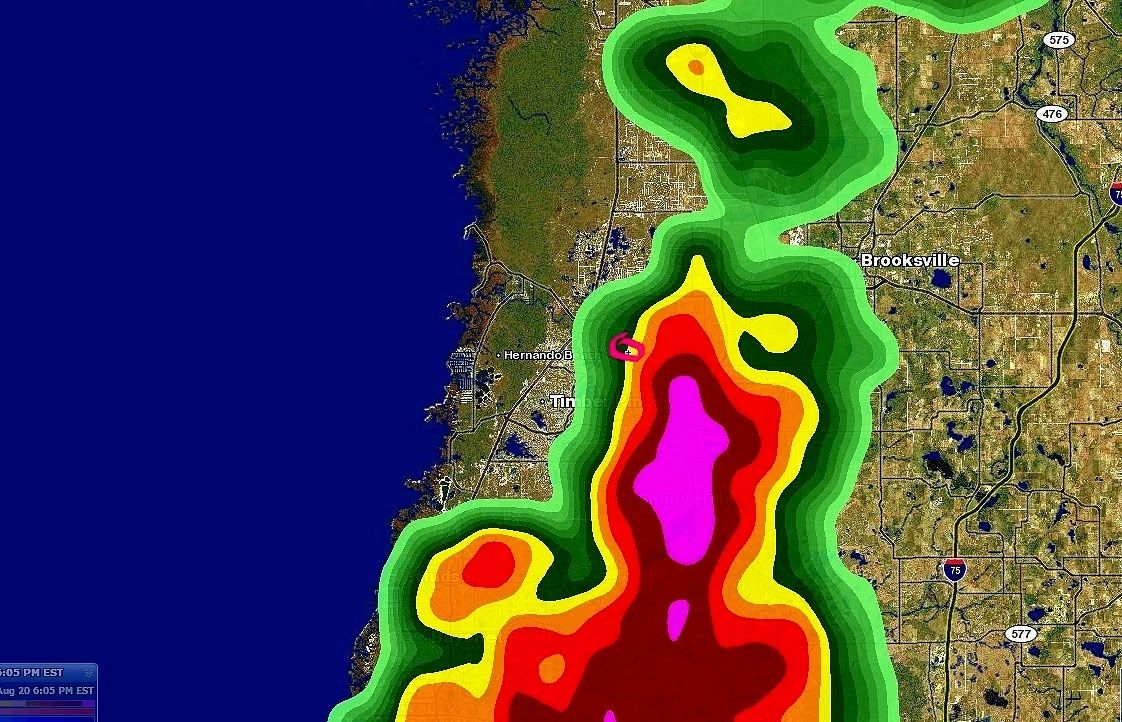 During Height of storm
User(s) browsing this thread: 1 Guest(s)