Spring Hill, Florida Area
01-25-2011, 11:25 PM
Spring Hill, Florida Area
January 25, 2011 Observations:
Daytime High was 76° F
Overnight Low was 59° F
Mean Temperature was 63° F
Average Daytime High is 70° F
Average Overnight Low is 44° F
Average Mean for date 57° F
Record High is 86° in 2002
Record Low is 28° in 2003
Pt. Cloudy with more sun in morning than afternoon
Winds south/southeast at 15-25 mph with gusts to 30 mph before front
Dewpoints in the low 60's
Squall Line formed in Gulf and moved east/southeast at 45-50 mph
Tornado Watch Issued at 2 p.m. till 8 p.m.
Severe Thunderstorm Warning issued at 3:45 p.m. till 4:30 p.m.
Tornado Warning replaced Thunderstorm Warning at 4:15 p.m. till 5 p.m.
Thunderstorm moved through at 4:30 p.m. with strong winds at 40-50 mph with torrential, blinding rains. 1 inch of rain fell in 5 minutes.
Pea size Hail near the end, but not much
More showers and thunder after this line blasted through
Though I did not have damage, there were houses within the 1 mile radius that did.
Rain Amount = 1.60"
Forecast for Wednesday the 26th:
Wednesday: Cloudy, then gradually becoming mostly sunny, with a high near 66. West wind between 10 and 18 mph, with gusts as high as 25 mph.
Wednesday Night: Mostly clear, with a low around 38. West wind between 4 and 7 mph becoming calm.
This was as the squall line approached
This was as it hit
Warning Map
Broader View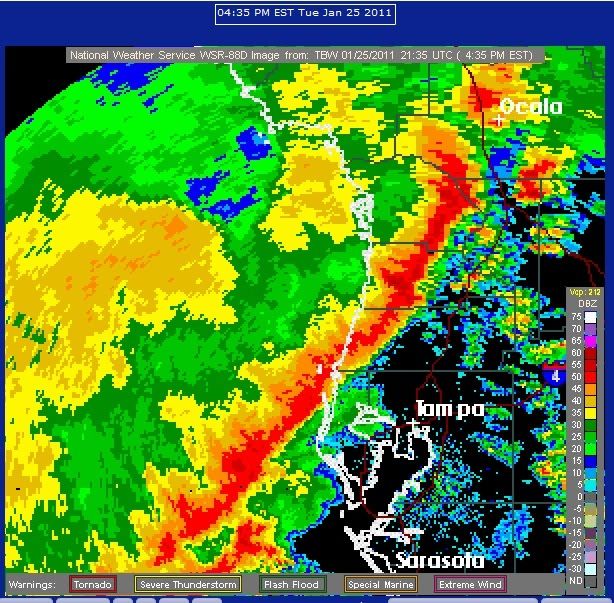 Outside Shot as storms came ashore
User(s) browsing this thread: 1 Guest(s)