07-17-2017, 01:38 PM
(This post was last modified: 07-17-2017 01:50 PM by Her-icane.)
Her-icane
Cat 5


Posts: 1,541
Joined: Jul 2008
Reputation: 2
RE: Invest 95L
ZCZC MIATWOAT ALL
TTAA00 KNHC DDHHMM
Tropical Weather Outlook
NWS National Hurricane Center Miami FL
200 PM EDT Mon Jul 17 2017
For the North Atlantic...Caribbean Sea and the Gulf of Mexico:
1. An area of low pressure located about 525 miles east-southeast of
Barbados is moving westward at 15 to 20 mph. The associated
shower and thunderstorm activity has changed little in organization
since this morning and the system still appears to lack a
well-defined center. Environmental conditions are conducive for
some development before the system reaches the Lesser Antilles late
Tuesday or early Wednesday. After that time, less favorable
upper-level winds are expected to hinder additional development.
Regardless of development, this system is expected to bring locally
heavy rainfall and gusty winds to portions of the Lesser Antilles
beginning Tuesday. An Air Force Reserve reconnaissance aircraft is
currently en route to investigate the disturbance.
* Formation chance through
48

hours...medium...

50

percent
.
* Formation chance through
5 days...medium...50 percent.
2. An area of disturbed weather is located about 875 miles west-
southwest of the Cabo Verde Islands. Some gradual development of
this system is possible over the next few days while it moves slowly
toward the west-northwest or northwest over the open Atlantic Ocean.
* Formation chance through 48 hours...low...20 percent.
* Formation chance through 5 days...low...30 percent.
Forecaster Brown
---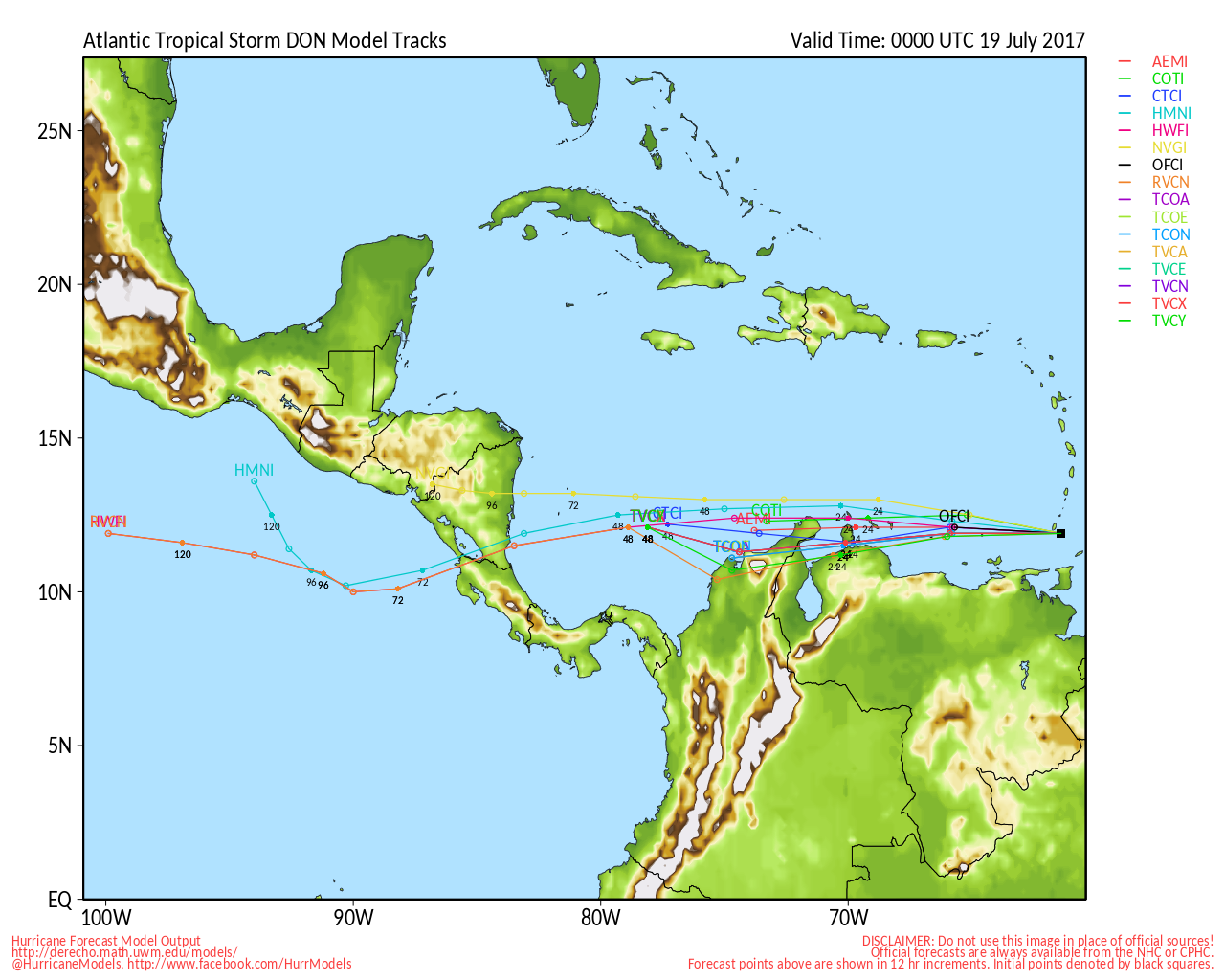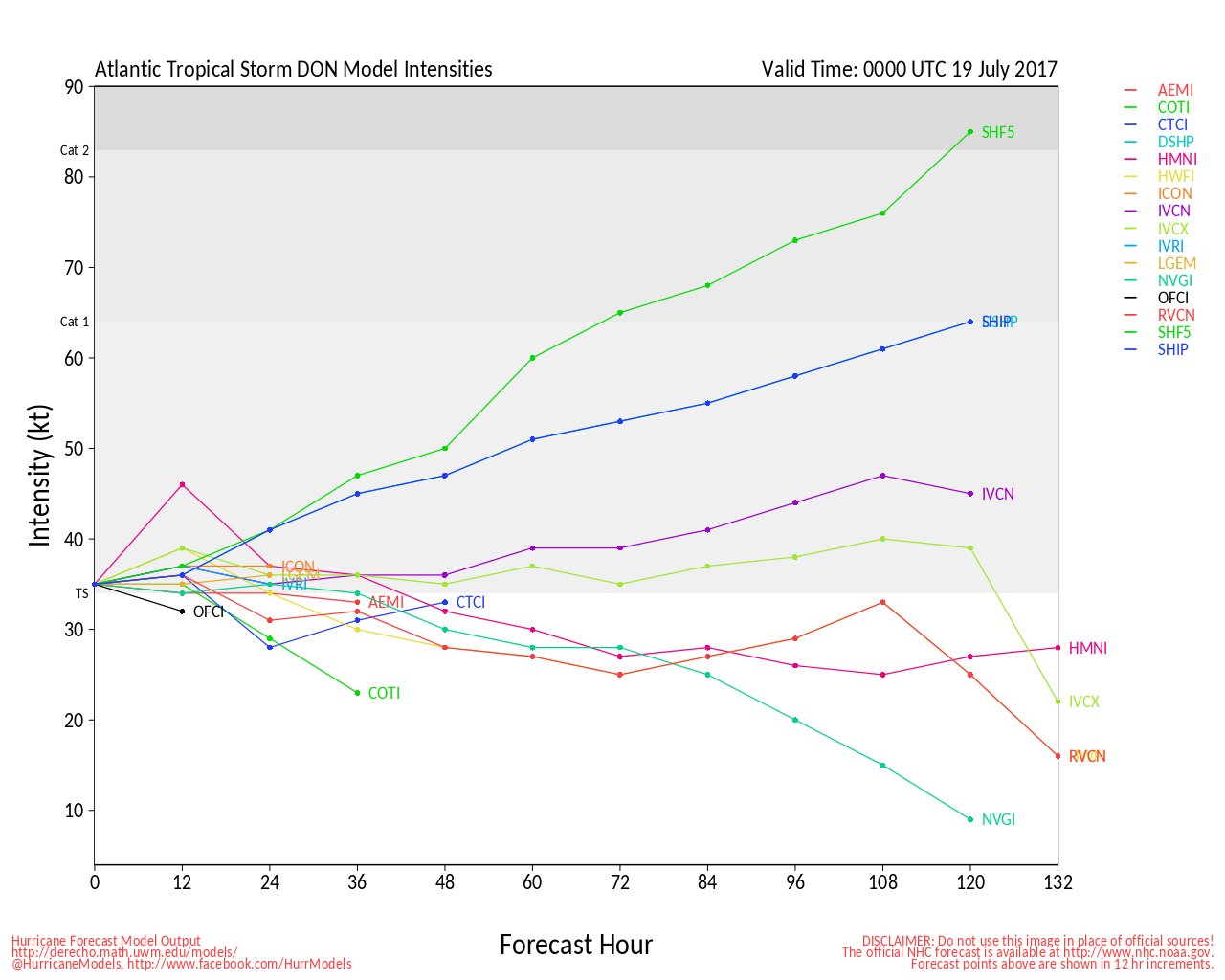 ---
---
000
NOUS42 KNHC 171500
REPRPD
WEATHER RECONNAISSANCE FLIGHTS
CARCAH, NATIONAL HURRICANE CENTER, MIAMI, FL.
1100 AM EDT MON 17 JULY 2017
SUBJECT: TROPICAL CYCLONE PLAN OF THE DAY (TCPOD)
VALID 18/1100Z TO 19/1100Z JULY 2017
TCPOD NUMBER.....17-047
I. ATLANTIC REQUIREMENTS
1. SUSPECT AREA (EAST OF WINDWARD ISLANDS)
FLIGHT ONE -- TEAL 74 FLIGHT TWO -- TEAL 75
A. 18/2330Z A. 19/1130Z
B. AFXXX 0305A CYCLONE B. AFXXX 0405A CYCLONE
C. 18/2130Z C. 19/0930Z
D. 11.5N 60.5W D. 12.0N 64.5W
E. 18/2300Z TO 19/0200Z E. 19/1100Z TO 19/1400Z
F. SFC TO 10,000 FT F. SFC TO 10,000 FT
2. OUTLOOK FOR SUCCEEDING DAY...NEGATIVE.
II. PACIFIC REQUIREMENTS
1. NEGATIVE RECONNAISSANCE REQUIREMENTS.
2. SUCCEEDING DAY OUTLOOK.....NEGATIVE.
$$
WJM
User(s) browsing this thread: 1 Guest(s)