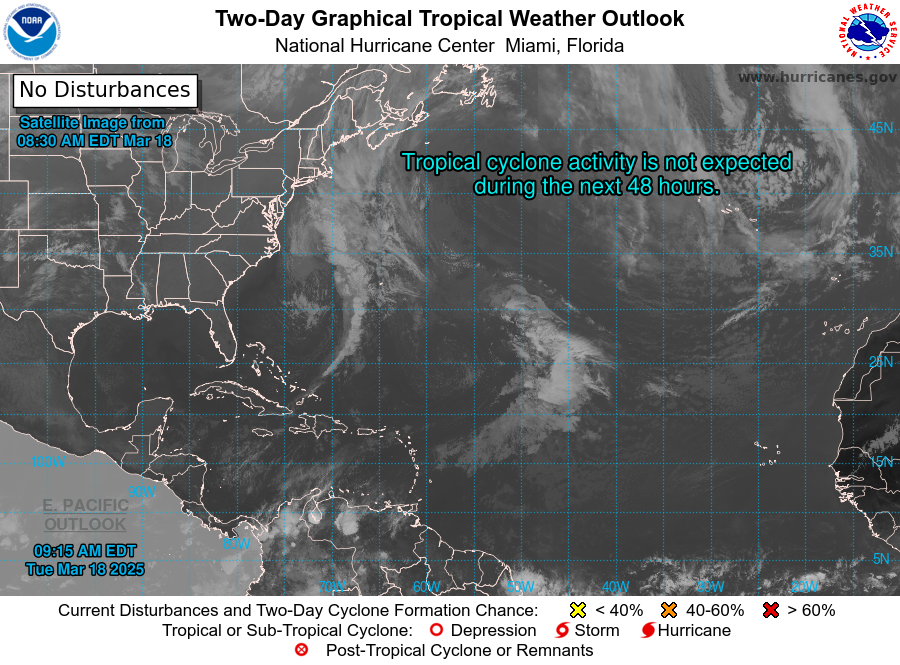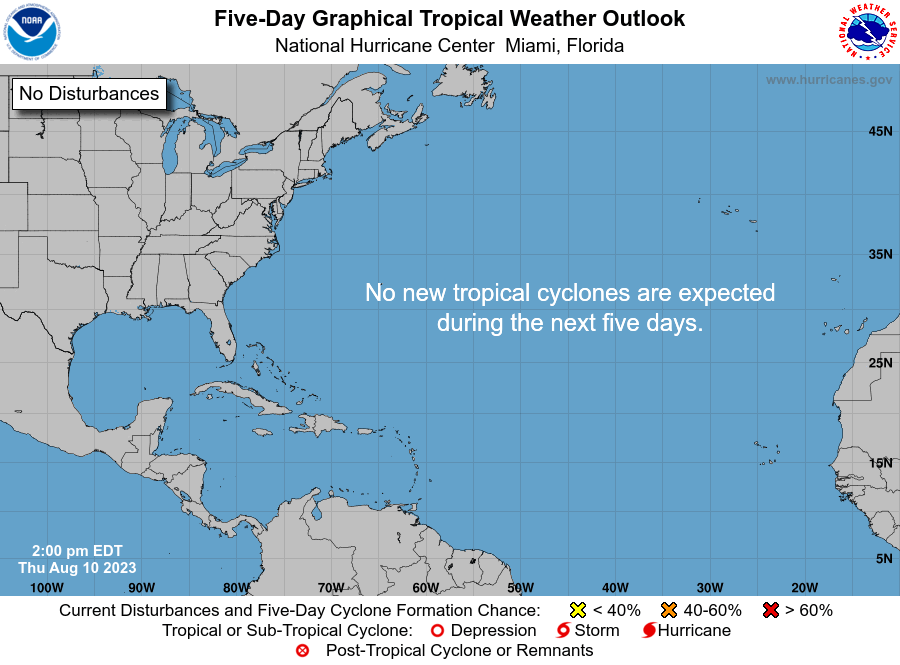 ZCZC MIATWOAT ALL
TTAA00 KNHC DDHHMM
Tropical Weather Outlook
NWS National Hurricane Center Miami FL
800 PM EDT Sun Jul 16 2017
For the North Atlantic...Caribbean Sea and the Gulf of Mexico:
1. A weak area of low pressure located about 900 miles east-southeast
of the Windward Islands continues to produce disorganized showers
and thunderstorms. Environmental conditions are marginally
conducive for some development of this system before it reaches the
Lesser Antilles in two to three days. After that time, less
favorable upper-level winds are expected to hinder additional
development. An Air Force Reserve reconnaissance aircraft is
scheduled to investigate the disturbance Monday afternoon, if
necessary.
* Formation chance through
48 hours
...low...30 percent.
* Formation chance through
5 days
...medium...
40 percent
.
Forecaster Pasch
---
JM
Quote:

Watching 95L in the Atlantic and Cat 4 Fernanda in the Pacific




Dr. Jeff

Masters



A tropical wave located at 8 am EDT Sunday near 11°N, 44°W, about 1000 miles east-southeast of the Lesser Antilles Islands, was headed west to west-northwest at about 15 mph, and was designated 95L by NHC on Sunday morning. This system has the potential to develop into a tropical depression or weak tropical storm by the time it arrives in the Lesser Antilles Islands on Wednesday.


Satellite images on Sunday morning showed that 95L was very disorganized, with little spin and only a modest amount of heavy thunderstorm activity. Development was being retarded by dry air, thanks to a presence of the Saharan Air Layer (SAL) just to the north (Figure 1.) Wind shear was low to moderate, 5 – 15 knots, and sea surface temperatures (SSTs) were warm enough for development, near 27.5°C (82°F)--about 1°F above the seasonal norm.





Figure 1:

The Saharan Air Layer (SAL) analysis from 11 am EDT Sunday, July 16, 2017, showed a large area of dry Saharan air in the tropical Atlantic north of Invest 95L. Image credit: University of Wisconsin CIMSS/NOAA Hurricane Research Division.




Forecast for 95L




The main impediment for development over the next three days will be the presence of the dry air to the system's north. Also, the Madden-Julian Oscillation (MJO), a periodic pulse of thunderstorm activity that circles equatorial regions of the globe every few weeks, is not in a phase that will help development of Atlantic tropical cyclones this week. Otherwise, conditions are favorable for development: wind shear should be light to moderate, and SSTs will be 27.5 - 28°C (82°F). In their 8 am EDT Sunday Tropical Weather Outlook, the National Hurricane Center (NHC) gave 95L 2-day and 5-day odds of tropical cyclone development of 20% and 40%, respectively.


The operational versions of our three top models for predicting tropical cyclone genesis--the European, GFS and UKMET--did not show development of the system over the next five days. However, 65% of the 20 members of the 0Z Sunday GFS ensemble forecast did predict development. Only about 10% of the 50 members of the 0Z Sunday European model ensemble forecast did so, though.

None of these forecasts had 95L becoming a hurricane, and the vast majority of the forecasts showed the storm only becoming a tropical depression or weak tropical storm by mid-week, then dying out in the Eastern Caribbean late in the week

. At that time, the 12Z Sunday run of the SHIPS model was predicting that 95L would see very high wind shear of 25 – 40 knots, and the Eastern Caribbean is notoriously hostile to tropical cyclones, especially this early in the season.


The models had a strong ridge of high pressure steering the system west to west-northwest at about 15 mph for the next five days, which would bring the storm to the Lesser Antilles Islands on Wednesday and into the Eastern Caribbean by Thursday. The next name of the Atlantic list of storms is Don.
---
---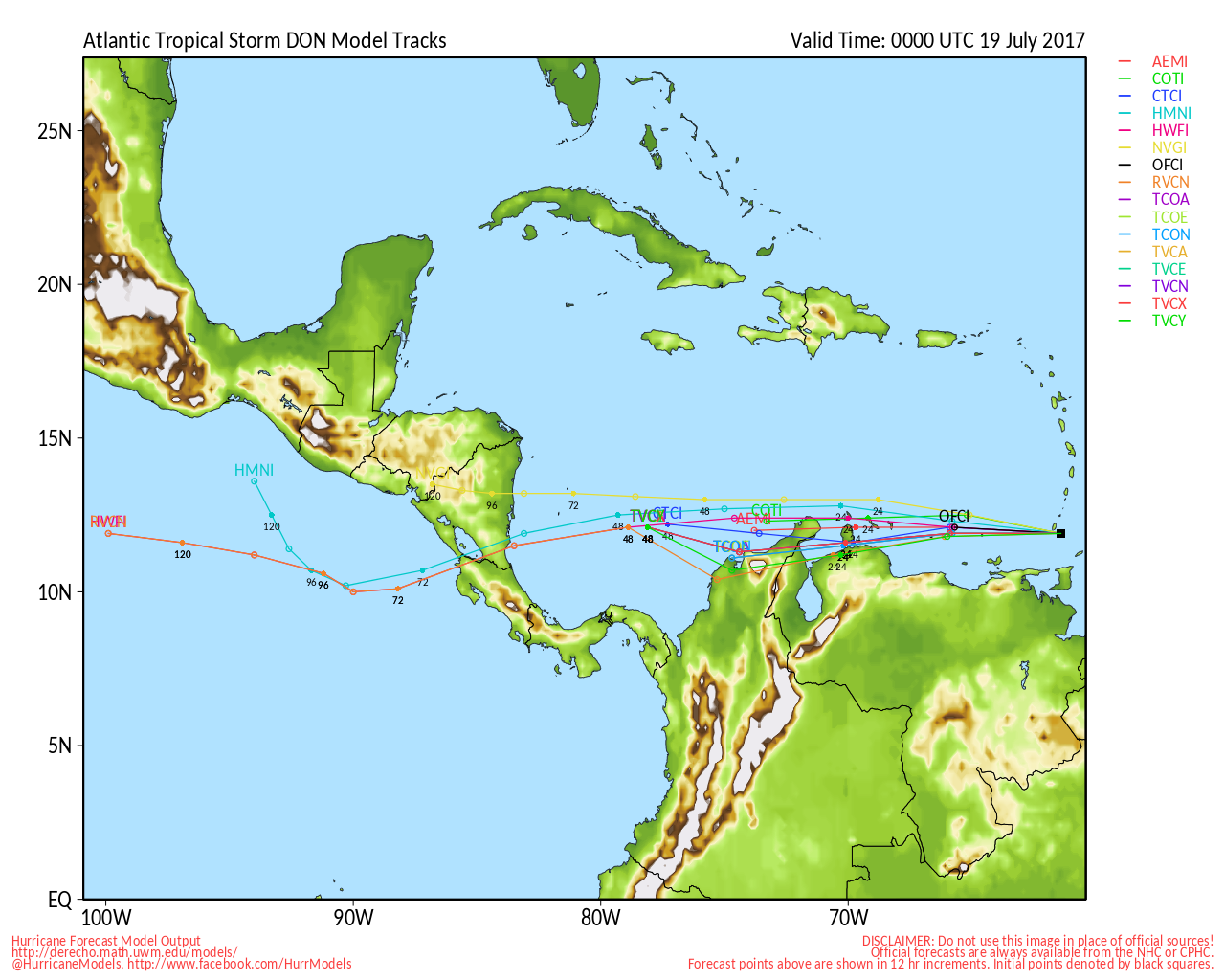 ---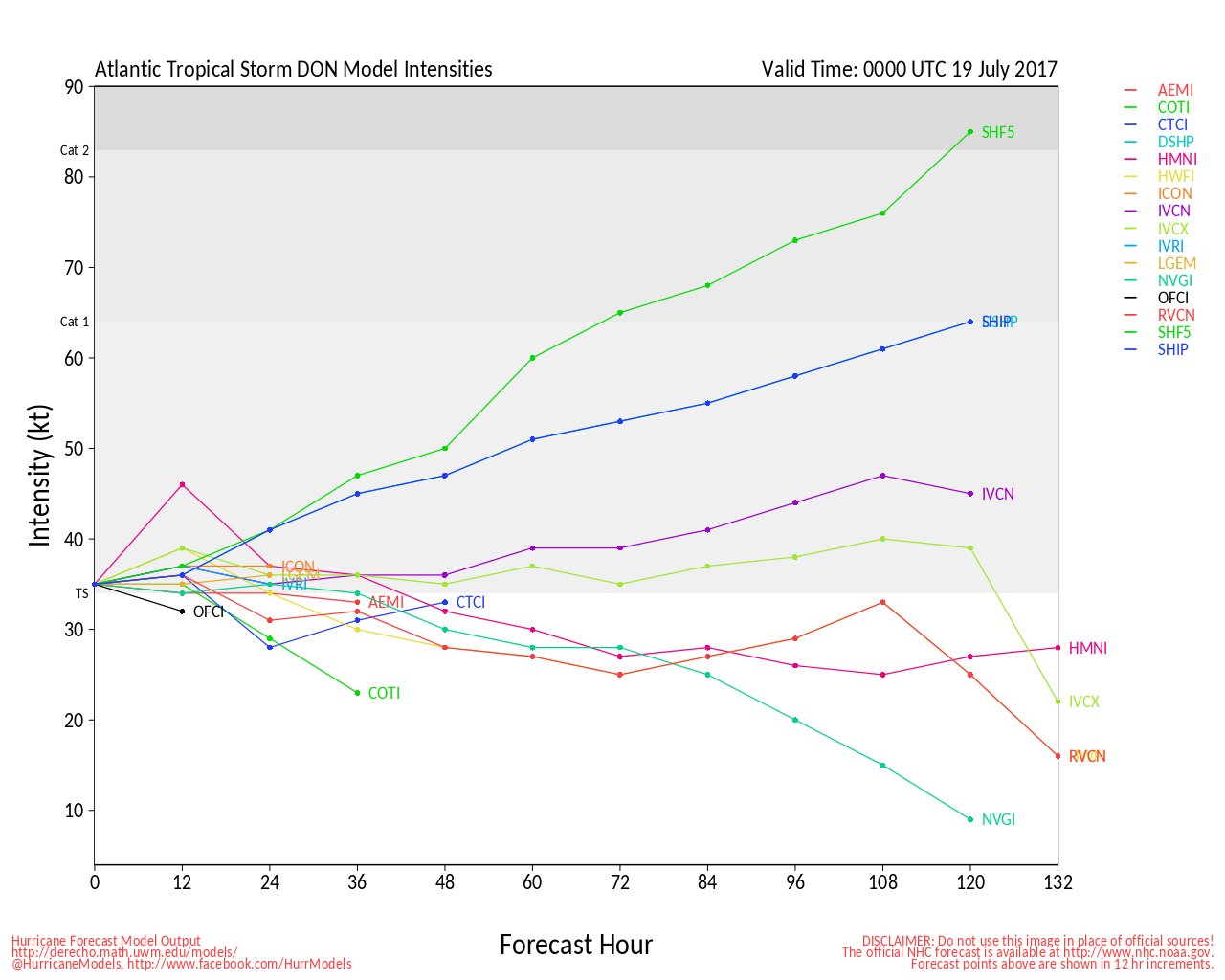 ---
Recon
000
NOUS42 KNHC 161445
REPRPD
WEATHER RECONNAISSANCE FLIGHTS
CARCAH, NATIONAL HURRICANE CENTER, MIAMI, FL.
1045 AM EDT SUN 16 JULY 2017
SUBJECT: TROPICAL CYCLONE PLAN OF THE DAY (TCPOD)
VALID 17/1100Z TO 18/1100Z JULY 2017
TCPOD NUMBER.....17-046
I. ATLANTIC REQUIREMENTS
1.
SUSPECT AREA (EAST OF WINDWARD ISLANDS)
FLIGHT ONE -- TEAL 74 FLIGHT TWO -- TEAL 75
A. 17/1800Z A. 18/1130Z, 1730Z
B. AFXXX 01BBA INVEST B. AFXXX 0205A CYCLONE
C. 17/1500Z C. 18/0930Z
D. 11.5N 52.5W D. 12.0N 57.0W
E. 17/1800Z TO 17/2200Z E. 18/1100Z TO 18/1730Z
F. SFC TO 10,000 FT F. SFC TO 10,000 FT
2. OUTLOOK FOR SUCCEEDING DAY: 12-HRLY FIXES BEGINNING
AT 19/0530Z IF SYSTEM DEVELOPS AND REMAINS A THREAT.
II. PACIFIC REQUIREMENTS
1. NEGATIVE RECONNAISSANCE REQUIREMENTS.
2. SUCCEEDING DAY OUTLOOK.....NEGATIVE.
$$
WJM